Visconti Hats
In SIGNATURE LINE, our Capsule Collection, you find very rare and precious materials used in the typical KOPKA-way of reduction. The stock is always very limited and we choose our distribution partners with utmost care.
"Visconti" is a classic men's shape. The implementation on very soft materials and a set of colored vintage velours ribbon, however, break up the classic look. "Visconti" is a bow to the great Italian director of the same name.
Our materials:
Finest Beaver Felt can be made very thin and light, yet the material can endure excessive use. Hours of manual work transform the ultrafine base material into a dense, valuable felt, which can rightly claim the top of the quality pyramid. It could not be better!
Cashmere Felt is so soft and cosy and of course 100% cashmere.
Only the 100+ hare hair felts can exist alongside the beaver felts, as they are real rarities: Velours felts, which were made at least 100 years ago in the very best factories, most likely even before the First World War. Kopka has been a specialist for hatbodies of all kinds since 1953. This long know-how has not only given us the expertise, but also the opportunity to obtain such rarities. We are the only provider of such treasures worldwide, but our resources are strictly limited.
Finish and production:
We sewed an elastic stretch band inside the hats, which covers several sizes in the medium range, between 55 and 59cm. We produce in an expert company in Tuscany, Italy.
Available in:
"Visconti" 100+
#8hv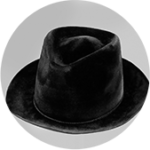 blackVIS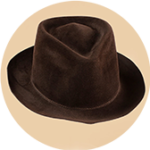 marronVIS
"Visconti" Cashmere
#8cvbl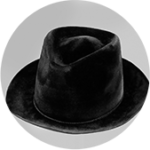 blackVIS
More items to explore