Settembrini Hats
In SIGNATURE LINE, our Capsule Collection, you find very rare and precious materials used in the typical KOPKA-way of reduction. The stock is always very limited and we choose our distribution partners with utmost care.
"Settembrini" has an asymmetrical shape, which almost seems to dissolve when worn individually. It is more of a Ladies' hat shape, but also similar to the traditional hats worn by Italian Alpini (mountain troops).
Our materials:
Our 100+ hare hair felts are real rarities: Velours felts, which were made at least 100 years ago in the very best factories, most likely even before the First World War. Kopka has been a specialist for hatbodies of all kinds since 1953. This long know-how has not only given us the expertise, but also the opportunity to obtain such rarities. We are the only provider of such treasures worldwide, but our resources are strictly limited.
Finish and production:
We sewed an elastic stretch band inside the hats, which covers several sizes in the medium range, between 55 and 59cm. We produce in an expert company in Tuscany, Italy.
Available in:
"Settembrini" 100+
#8hs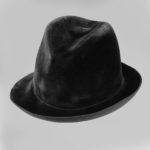 blackSET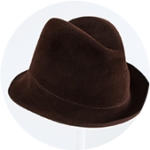 marronSET
More items to explore